About This Creator
From modeling to shoot production, Jenny has been a fixture in the Miami fashion world for years. Now, with her new VOGUE Mexico weekly column, Jenny on the Go, Jenny is documenting her travels, style, and selctions on a global scale. Over champagne, music, and stacks of editorials, the whimsical Jenny Lopez took us on a tour of her closet--literally a section of her husband's warehouse is dedicated to her wardrobe, along with a desk and chic sitting area. Her nomadic spirit is evident in her wardrobe, but she is also right at home as a welcoming hostess and a great conversationalist.
Where are you from?
Medellin, Colombia.
How long have you been in Miami?
I've been here 16 years. I've lived on the beach, but for the last ten years or so I'm living in Brickell.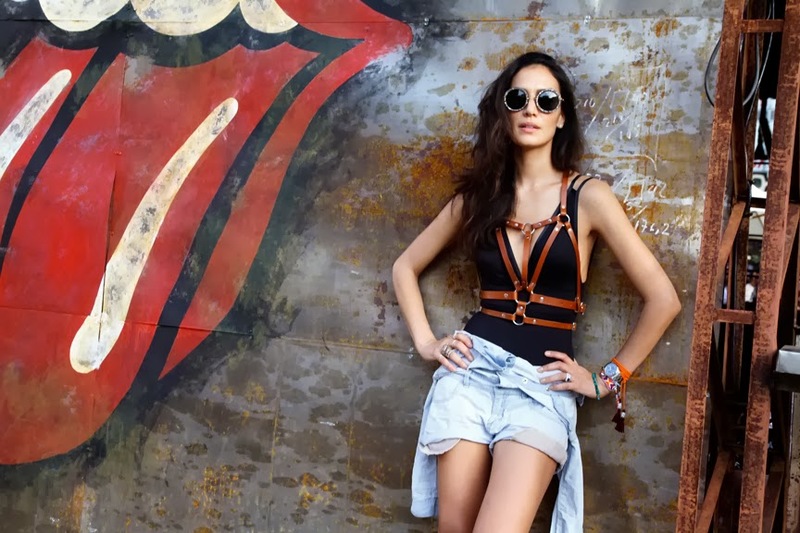 Tell us about Jenny on the Go.
They have a series of three different weekly blogs, there is one kind of like Teen Vogue, another girl, and myself. It happened very organic I think. We met sometime in Colombia. They contacted me to do a closet tour once, and I started collaborating with them on social media. I did reviews about ColombiaModa and Art Basel for them, and then they told me the photos I sent were very popular among viewers, and one from Art Basel was their most popular--so they saw potential in collaborating with me. The collaborations have been since last year, this year the weekly column started.
Does the column serve to showcase spots around Miami?
It's me on the go, so not really. It's not limited to Miami, even though that's where I am posting now. I want to go back to traveling once my baby is a little older. Maybe when he goes to school.
As someone on the go, you must have a few things you have to pack when you're traveling. What are your travel essentials?
Bose headphones, shoes that are easy to take on and off on the plane and at the airport, a cashmere throw, and more sunglasses.
What about beauty products? Any must-haves?
Everything by Tata Harper, especially the Resurfacing Mask.
What are the most inspiring destinations you've visited on the go?
India. I felt feelings of enjoying it and loving it, and also feelings of not wanting to be there. There is so much color, and then so much poverty. It was such a contrast, but beautiful. I love Sydney, Australia too.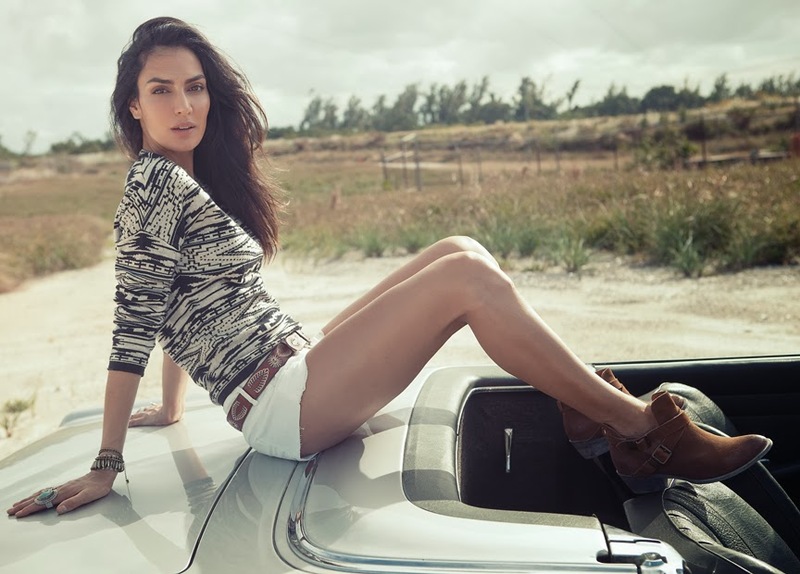 When did you start modeling?
When I was going to school in Colombia, I wasn't making a living out of modeling. I never really den thought I could make a living doing it. I love it though, it's a great job. I took a break from modeling a few months after I was pregnant, and I have done a few jobs since becoming a mom, but not the way I was modeling before. I'll eventually start up again.
Tell us about your fashion production adventures, and how that came about.
So, basically I manage the editorials--everything from casting, and location, the photography selection--I have so many years of experience for so many years and it keeps me connected to fashion which I love. I can to create. I recently worked with Tennis, from Colombia, and Pretty Ballerinas, from Spain. I also produced in New York in December. I started modeling with both of these brands, and blogging about them, and they are great companies. I did a shoot for Tennis that was Thelma & Louise, and I was producing it, and they loved what I put together.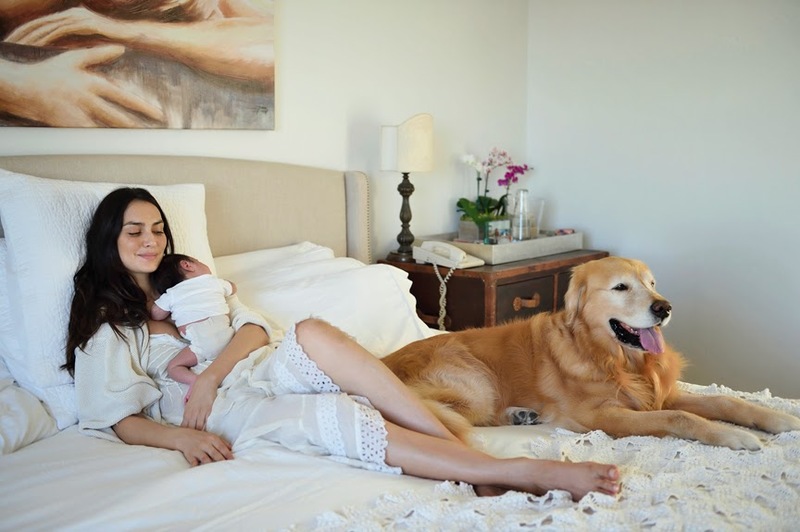 What about balancing work and being a mom? How is that going?
Sigh. I ask myself almost every day how am I supposed to balance things I like and taking responsibility for the life I brought into this world. I want to be fair to myself and me and also to the baby. I want to do both. Having the things I like and also showing and teaching the baby about life, I want to do it all. Right now I go into an office about 3 times a week, sometimes more.
Before having a baby, you were already a mom to your golden retriever Manu. Tell us about him.
Manu is my little partner, he is such a good companion. I am so fortunate I found him, I dreamt of having a dog like him my whole life. I was walking in Buenos Aires and I ran over and I knew I was going to have him. A family in the neighborhood had the puppies and I was ready to take him.
Describe your style.
It's very eclectic, I love vintage, natural fabrics, romantic blouses--kind of like Victorian, fringe. I don't care if fringe is ever in style or if I look like I'm in a costume--I will always wear it. When it comes to me getting dressed for the day, my husband likes to say, "So what is the costume today?"
What are your personal fashion essentials?
Sunglasses, turquoise jewelry, white linen t-shirts from Zara, and tees from Alexander Wang too.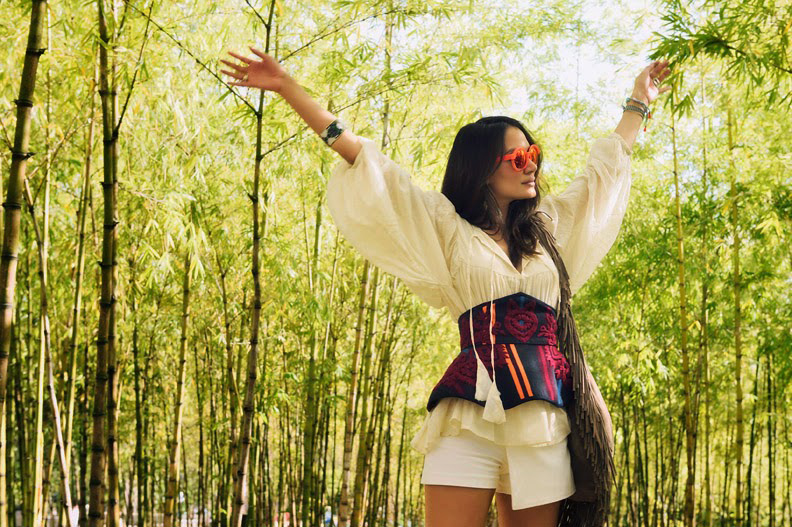 Why did you start your blog?
I was modeling for so long, and I got all of this knowledge and met such amazing people--photographers, other models, stylists, and so on. I want to be connected to all of those people, and it was a way for me to stay in touch with everyone and share the things I like, and things I see traveling, and fashion tips and beauty and so on. As I was doing it, I was like where is this taking me? I still don't know, but I enjoy it.
Any fashion advice?
Don't follow the trends--be true to your own style. In reality--in fashion and in life-- I do not like to plan much. I live day by day. My husband tells me I need to plan, But plan what? I live each day with responsibility, then what is there to plan? Does that answer sound vague? I'm too vague I think. But it's okay.
About Miami:
Favorite place to eat: Mandolin and Makoto in Bal Harbour
Favorite place to have a cocktail: Cantina Le Vente, in Icon Brickell, and Gramps in Wynwood, they have great cocktails. And Broken Shaker is nice too.
Favorite places to shop: Fly Boutique and Boho Hunter, they have very cute things
Favorite museum: I love the Perez Museum, I can take the baby and the restaurant is delicious
If someone is coming to Miami for the first time, what do you recommend they do: Start the day with a coffee at Cantina la Vente overlooking the bay, see the beach and people watch, go see Wynwood and the graffiti and all the new things that are happening there.

Follow this Creator:
Instagram: LopezJennyLopez
VOGUE Mexico: Jenny on the Go
Personal Blog: Lopez Jenny Lopez
Other Locals